Specializing in geeky, pop-culture accessories and fun, snarky, inspirational tees.
unapologetically, authentically you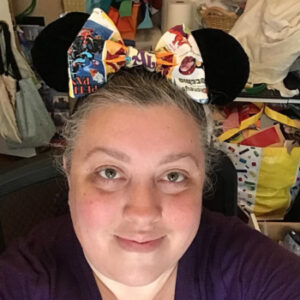 Perfectly imperfect homeschool mom, handmade business owner.  Stitching my way through life with a spoonful of sugar and a shaker of salt.

-Heidi
We love that everyone who uses our purses, zipper bags, tops and accessories are getting an exceptional product worthy of retro royalty.
Before I created Heidi Mein, I was making felt-embroidered educational toys and dress-up masks and costumes.
One day I realized my kids had outgrown what I was making, and finding new and engaging designs was becoming more difficult.  As a mom, I was struggling with a loss of sense of self and style.  Nothing was fun, or cute, with the tongue-in-cheek humor that fit my taste, or my size.
I realized there are more women out there like me, working to get back the person we enjoyed being without compromising our other responsibilites.
I set out to create the most fun, functional and unique purses, bags and accessories for the most hardworking, misunderstood women out there, the Xennial mom.
It turns out, things were more difficult that I imagined.
While still working my first business, I began sourcing patterns, designs, and materials.  Even with years of sewing and embroidery experience, I struggled to keep things going.
Then in 2020, it felt like the world stood still.  I began making face masks, all while trying to keep my first business afloat, barely making ends meet.
Then the unthinkable happened…
Early 2022, as I was preparing my rebrand, my husband of 20 years passed away unexpectedly.  With two pre-teens at home, I was even more nervous about my business transition, let alone our future.  Even in our darkest hours we were able to rise above the unknown.  It took a little longer than planned to reach my relaunch goal, but every step has guided me to better help women, just like myself, to bring back the spark of who I/we once were.  The melding of geeky-nerdiness, the best of growing up in the 80's and 90's, all tied together with the mama bear we have become.
Through it all, I launched my first limited product lines and the response was emotionally empowering!  It's retro-royalty-meets-snarky-mom and I am so excited that you are here for it!